How to Win at Video Poker Guide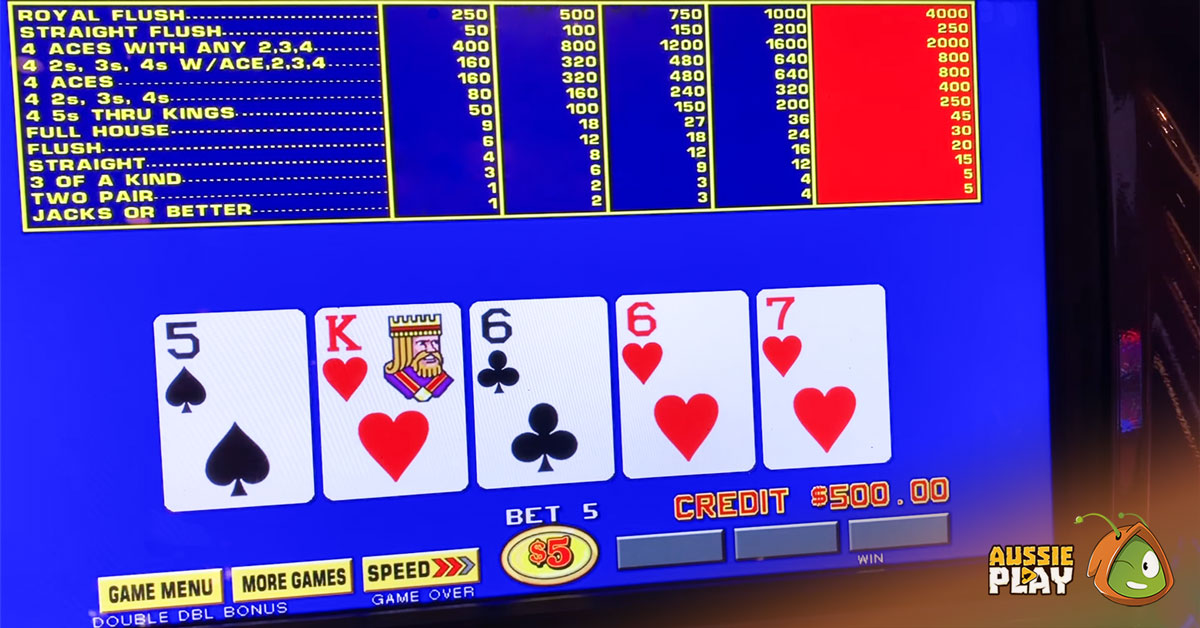 Video poker machines are a really popular form of gambling. However, many gamblers don't quite understand the principles of this game. So, they don't realize how they can claim an advantage over the machine. Video poker is a pretty unique type of casino game because it's a balanced mix of two different elements: it's both a game requiring skill and a game of chance. And now we're going to explain all the crucial facts about video poker. We are also going to offer you some useful suggestions on how to improve your chances of winning some money at this game.
First Things First — What Is Video Poker?
Video poker is a famous kind of gambling game that is based both on the RNG (random number generator) and on the well-known gaming principle of classic poker. You can play this fun game on the machines in a classic, land-based casino, as well as online in a virtual one. But no matter which forms of video poker you choose, you are always going to need both good fortune and skill. Video poker machines try to reproduce the game of poker the best they can, while also providing you with some additional features. Anything that exists in video poker and doesn't exist in real poker usually improves the player's experience. But since we've already mentioned there are certain differences between classic, table, and video poker, let's discuss them in detail now. Understanding the distinction between video and real poker is of crucial importance for setting up your playing strategy.
'Real' Table vs. Machine — Why Is Video Poker Different from Live Poker?
When you play classic-style poker, the dealer deals you cards, and you play against other players. Also, the house has very little to do with the amount of money you can win. In "real" poker, you play against others at the table, not against the house. But now, with video poker, things are a little different.
First of all, in video poker games, your opponent is a machine, not humans; nor indeed other players. Also, the house has a lot to do with the sum of money that you can take home with you. Nowadays, every single video poker machine is carefully designed to have its RTP (return to player) percentage. Also, there is no dealer. The RNG algorithm determines which cards you are going to receive.
Video poker offers one crucial advantage over the classic game — there is no tension and pressure, purely because there are no other players. Many gamblers who don't enjoy the whole "reading your opponents" thing also prefer video poker. In addition to this, video poker offers you a lot of bonuses and promotions that can help your game. Now, let's talk about your winning chances in a video poker game.
Battle of Skills and Odds — What Are Your Chances of Winning?
We have said that video poker differs a lot from regular poker. However, we need to mention another important fact. Video poker and slots do differ significantly! Many people fail to realize how different video poker and slots are, in fact. The game of video poker is not your classic game of luck, per se; you can't just press a button at random and hope for the best. In fact, if you approach this gambling game as you would slots, you are probably going to lose a lot! Video poker is a game of skill, but a game of skill that still requires a bit of good fortune. So how much fortune do you need to win at video poker? Let's see the table that explains the theoretical return for Double Double Bonus type of the game (we'll talk about popular video poker variations in the upcoming section).
As you can see, depending on the credit amount, the return percentage varies from 98.9% to 100.1%. When you look at this table, it's probably more than clear why experienced gamblers stress the importance of the credit amount for this game. However, even when you find out the precise RTP for a certain machine, you still can't lose your hold on what's truly important — your skill. Your odds of earning some money from video poker mostly depend on your knowledge of poker and your talent for this game. If you know when to toss cards, and which cards to toss or keep, you're already halfway there to winning the game!
However, there is also a part that concerns luck, as we all know. You don't have any control over the cards that are dealt to you. The RNG deals you cards, and there's nothing you can do about it. Basically, your job here is to do the best you can with what you get — cards, bonus, promotions, etc. Now, what do the statistics have to say about video poker players, on some large scale? Well, the current data says that an average RTP of the average video poker machines varies from 99.52% to 99.54%. So this game, in general, has a pretty high RTP. However, the probability of you winning some serious money can also be lowered or increased, depending on which variation of the game you choose. Now, let's see which types of video poker games exist. Which games can you try out?
All Shapes and Sizes — Many Variations of Video Poker
As you can probably guess, judging from long-term global popularity of the game, there are multiple variations; there are all kinds of video poker versions for you to try. So let's have a look at all the video poker types one by one!
Jacks or Better — The classic, draw, most popular type of video poker.
Tens or Better — The variations where the first paying hand is a pair of tens. This is somewhat a type of 6/5 Jacks or Better.
Bally's All American — The type with larger payouts for the highest hands.
Deuces Wild — The type where all twos put a smile on your face — they are all wild! This variant can sometimes reach the return percentage of 100.8%.
Joker's Wild — The variation with a Joker card included in the deck.
Sigma Flush Attack — This variation is a fusion of video poker and slot.
Bonus Poker — In this variation, Four of a Kind grants the best payout percentage.
Double Bonus — This variation has a special payout for lucky four aces.
Double Double Bonus — Here, you get special payouts for various Four of a Kind combinations.
So we have learned which games you can pick. We have also learned that each variation of the game has different advantages. Obviously, the type of game you play has a lot to do with how much you can win. Now, let's see how to pick other important things that can influence your winnings.
Do Your Research Before You Put Your Money at Stake — How to Pick the Best Casino, and Paytable
You can play well, and even pick a game with the highest payouts available; but even so, all of that means nothing if you're playing in a bad casino. Always do your research on a casino before you set foot in it. But how should you research a casino, then? Let's see!
Read online reviews on reputable gambling websites
Read reviews from famous and reputable experts
Read comments and reviews by customers
Carefully and patiently examine the entire casino website — Terms, Policies, Essential information about tables, games, and RTP
Research news about this casino from the world of gambling more generally  — look for any scandals relating to customers or employees, or any cases of fraud, complaints, or negative incidents
Once you're finally sure the casino is reputable, you have to learn about the games' paytables. Before you choose your machine, take a look at the paytables of the various games. The information on the paytables will provide with all the necessary things you need to know. Carefully examine winning combinations for a game on that game's paytable. Also, try to learn about some statistics for the specific game, the RTP, frequency of wins, and frequency of larger payouts. Now, since we have concluded this section, let's get to the gaming strategies!
Be in Advantage — Top 3 Winning Strategies
Let's talk about video poker tips and tricks. With this gambling game, you can be in advantage, and you can have some control. As we said earlier: with slots, you're not in control, because the RNG plays for you. However, video slots allow you to gain an advantage over the machine. How? Well, with your skill, of course! Let's look at the three most important winning strategies!
The Key is in Practice
Always come prepared! Practice poker a lot if you are a beginner; this part is mandatory. The more you know about the game, the better the choices you will make!
Take the Control over the Stakes — The Betting Strategy
In video poker, just like in classic poker, you should know when to bet high, when low, and when to go all in. So when your hand is strong, feel free to get more coins. When your hand is weak, you should step down to a smaller credit amount. Also, if you're playing a game that has special, high rewards for Royal Flush (such as jackpots), you may need to wager more coins (we'll explain this in the following section).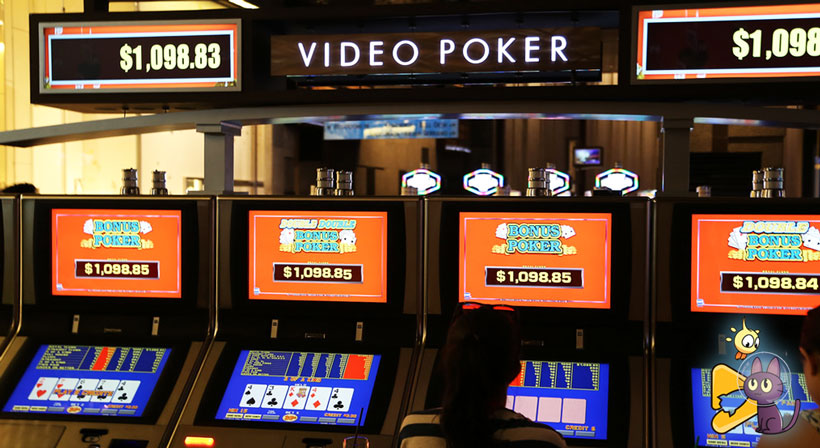 Realize It's a Game of Skill, and Take Your Time
Never rush your decisions in video poker; ever! You should understand that if you play slowly, carefully, steady, and keep making smart decisions, you'll be able to significantly increase your chances of winning. Never allow yourself to get tempted to click something without thinking about it, by relying on sheer luck. Every move can be beneficial to you if you don't throw it away by being reckless and impulsive.
These three tricks are essential for a successful gaming experience in video poker. We have especially stressed that with any cards, your fate depends on your next move. We have stated that this step is the most important — finding the best out of the given situation. But is there some list of moves that you need to make in specific circumstances? Luckily, there is, and we're now going to present it to you! Let's take a look at a full guide to all the smart moves that you should make, depending on the hand you've been dealt. So here's our easy video poker secret strategy, just for you!
As you can see from the chart, this crucial video poker strategy is pretty clear, coherent, and easy to remember. You don't need a video poker trainer, just this simple table. There are specific rules about which cards you should toss away and which you should keep. This table can help you have a significant advantage over your circumstances and control the game to a significant degree. Of course, you can't control the RNG itself; but that's what makes this game exciting and worth playing. Now, let's spice things up with some jackpots!
Aiming High — How to Win a Jackpot
The best thing you can do if you aim for those life-changing wins is to go for the kind of video poker games that feature progressive jackpots. Also, this may be the best way to play video poker! Hitting the jackpot is something that happens once in a lifetime, but this doesn't mean you shouldn't try it. Indeed, there even are some strategies that can improve your odds of winning it. So let's see these tips of ours for nabbing that life-changing prize!
Fulfill the required minimum stake — Games that offer progressive jackpots often have some betting limits you have to meet.
Aim for the Royal Flush — This combination of the cards usually triggers the jackpot!
However, don't spend all of your gambling budget on hunting the Royal Flush. You still need to play smart and careful. Otherwise, you'll have no money left to aim for the big win.
You've probably already heard about the following popular belief — when a slot or any other gambling machine pays out a jackpot, it'll stop paying it out for some time afterwards. This myth is a perfect example of the many dangerous gambling myths out there. Beliefs like this potentially harm your chances of winning, by leading you to false conclusions about the principle the game operates by. Now, we'll bust some popular video poker myths.
Let's Bust the Harmful Myths
We've picked the five most frequent, very dangerous, and false beliefs about video poker. Let's take a look!
Video poker machine has a specially designed, predetermined payout system — This is so false! Gambling machines operate on RNG, and they don't "plan" the payouts.
Video poker machines treat you differently depending on your bets — No matter how much you bet, RNG deals you the cards. The RNG is an algorithm: it doesn't feel, think, or judge.
Video poker machines will deal you the cards you tossed — The cards you toss away are not in the virtual deck anymore.
Video poker machines treat you better if you play longer — The machine doesn't know who is playing and for how long. Each game is a separate "event" for the microchip.
Video poker machine stops being generous after a Royal Flush — If you hit a nice hand, the machine is not going to deal you bad cards afterwards to even it out. It just doesn't work that way.
So since we don't believe in these dangerous misbeliefs anymore, and we understand that RNG doesn't have any preferences, let's move on. Now, we are going to talk about responsible gaming and tips for not hurting your budget. The following part of the article is very important, and you should pay attention to it.
Be Responsible, and Don't Lose Too Much Money — Important Tips Everyone Should Know
Gaming in a casino should be a fun experience, not a painful one. So how can a visit to a casino remain a pleasant memory? How can you save your money? Let's see!
Prevent addiction — Never let your love for gambling to turn into an addiction. If those close to you tell you that they have noticed that you're obsessed with casino games, listen to them: they are probably right!
Don't be impulsive. — If you start to lose, don't let it get to you! Take a break, take a drink, relax, clear your head, and then return to the game. If you play video poker when you're irritated, nothing can end well.
Don't count on luck; count on your skill. — Don't play this game by just pressing buttons. Think about the game; it requires skill, it's not a slot.
If you are too tired, not in the mood or unfocused, don't play. — Video poker requires focus. If you are tired from driving, if you are jetlagged, if you don't feel relaxed, don't play. Leave playing this game until you feel more fresh and focused.
If you lose your gaming budget, stop playing immediately! — When you want to visit a casino, you should always have your gambling budget carefully prepared. But what's a gambling budget? Well, this is a specific amount of money that you can perfectly do without, even if you just throw it in a river. The moment you spend a penny over your gambling budget, stop playing!
So if you listen to our five tips, your visit to the casino will remain a pleasant, fun, and exciting experience. Never allow yourself to turn a nice gaming night into a living hell, by betting huge amounts of money away. Instead, play responsibly, rationally, and never be impulsive — you're going to thank yourself later!
Conclusion
We've learned how video poker works, what video poker strategies are, and what you should and shouldn't do when you play video poker. Before we say goodbye, we'll sum up the most important things. First of all, in video poker, your skill, knowledge about poker, and your strategy are of vital importance. Then, the cards are dealt in the most impartial way possible — by RNG. If you want big wins, always go for video poker games featuring a jackpot; and more precisely, a progressive jackpot. Also, don't forget that games with progressive jackpots have regulations about minimum betting requirements. Finally, always play responsibly, and never go above your gambling budget!
Subscribe to us
If you want to receive our newsletters and latest updates, enter your email address in the field above.
We employ a highly professional Customer Support team, and every its member is able to solve any issues regarding your casino experience. Any question you have can be addressed to our support team via phone, Live Chat or email; but for your convenience, we've developed an extensive FAQ section as well.
© Aussie Play Casino, 2023. All Rights Reserved