Stop your terrestrial boredom! Aussie and his space gang are here to make some bets!

Leaving his native planet with Zuzu and Space Cat became a real challenge for him, as his sunny and always warm home is known for its underwater, ground and flying casinos all over the Galaxy.

When Aussie looked into the illuminator of his shuttle, he felt uncertain if he would ever find the same golden shores like on his native planet. He knew that he and his friends had a mission to complete. They were to promote their virtual casino among young civilizations! Aussie wanted to educate other living creatures on banking. Zuzu dreamt of making everything tiny and mobile. Meanwhile, Space Cat had some plans for promotions.

Their spaceship computer has caught the slots machine signal from the Earth, and they landed here, in Australia! Come join their extraterrestrial casino and read more about their thrilling adventures in Aussie's blog, while sly Space Cat is sharing awesome bonuses and free spins with you!
Play on Any Device
Terrestrial technologies are no wonder for Aussie and his friends. Zuzu decided to develop a portable casino for humans! Everyone can play with our alien friends all day long on Android, iPhone or any other sort of device! The only thing that is missing is a hologram! But it just a matter of time!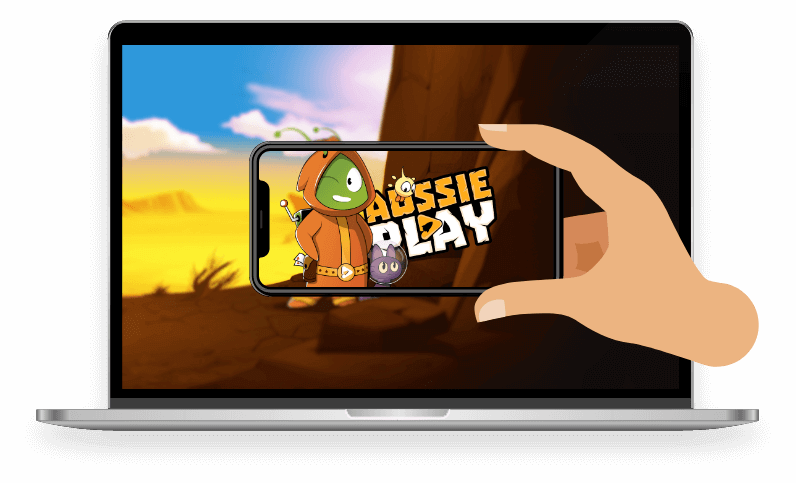 Download the Casino Software
Zuzu has decided to share a little secret with you. We were talking about how Earthlings love their little pocket devices, and Zuzu got the idea of developing a casino that you can play on your... intelligent phones? Or is it a smartphone? Anyway, you can download the program that Zuzu developed, and join us wherever you are. Join us today, and enjoy the incredible games we have on offer for you!