How to Play 3 Card Baccarat
Baccarat is a very old game that originated all the way back in Napoleonic France. Back then, it was a game for noblemen, and the poor didn't really have the privilege of enjoying the riches this game could potentially bring. Nothing really impresses me more than seeing primitive civilizations trying to make gaming fun. But, I do dislike the idea that some games are only reserved for the wealthy.
Thankfully, human civilization has evolved to this point — this glorious moment when quite literally anyone can play Baccarat. Moreover, sometimes you can even play with an ante as low as $10. Just in case you're still new to gambling, ante is basically the initial bet that lets you play against the house!
Now, this game is fairly simple and very similar to its parent game — Baccarat. There are only a few differences that make it even more entertaining. Let's sum up the novelties that 3 card Baccarat has brought to the table.
Face Cards Aren't as Irrelevant
First things first, there is an interesting rule in this version of Baccarat — the 3 card rule. This means that as opposed to the regular version of the game where the dealer deals only two cards each, in this version, they deal three. Now, this doesn't mean that regular Baccarat limits you to only two. On the contrary, if your hand result is anything between 0 and 5, then they deal you a 3rd one.
So there's the first difference; the number of cards dealt is different. Three card Baccarat one-ups its predecessor in this case. Most importantly, though, in the original Baccarat, face cards bring 0 points. In the three card Baccarat variation, getting three faces brings you an immediate victory. Think of it as the Royal Flush of this specific variation. They call this hand the three faces, and if you or the dealer get it, the round ends.
Other than that, the rules are pretty much the same. You still need to get as close to 9 as you can, and Ace kept its worth of 1 point.
Three Card Baccarat Is Still New
It's pretty crucial for you not to get confused by the fact that a lot of people might explain the rules of the 3 card Baccarat differently. It is still a brand new game on Earth (on Zuzu, we've had it for thousands of years now, but under a slightly different name), and many gamblers would agree that securing a win is a lot easier in the 3 card Baccarat. Some would argue that the rules of this version of the game still aren't set in stone. Which means that things might be up for a change or at least modification.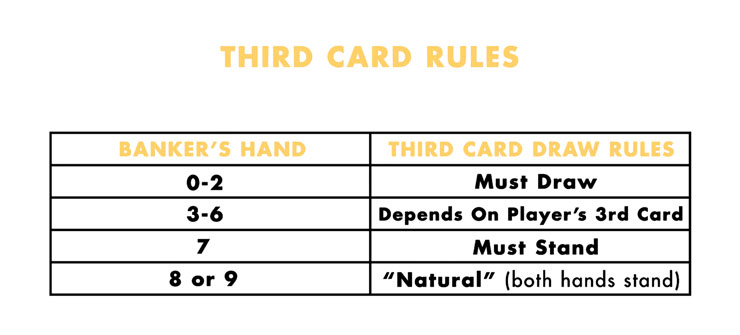 Tips and Tricks of the 3 Card Baccarat
Just like in any poker game, the three card Baccarat also comes with a set of unwritten rules of what you should do and what you should avoid.
Don't go for the tie
Try playing for fun (for free) the first couple of times
Watch your money
These are three ground rules you should stick to when trying out this new game. Moreover, the tie is a good, viable option only in the original version of Baccarat. Additionally, a lot of websites will let you test the games for free, so you can practice before you start playing for real.
And this goes for absolutely all the casino games and gambling in general — always remember that this is just a hobby and that you shouldn't spend too much money on it. There's a lot of dignity in gambling, but not if you decide to fritter away your savings!
You Should Try It Out
This freshest Baccarat version is simple to learn and play. Plus, considering the minor differences, you will manage to get the hang of it in no time! Here are all the differences summed up:
Face cards have value
Three face cards bring an immediate win
You get three cards
So feel free to hit your favorite casino and try this exciting take on this perennial classic, the amazing game of Baccarat!
Subscribe to us
If you want to receive our newsletters and latest updates, enter your email address in the field above.
We employ a highly professional Customer Support team, and every its member is able to solve any issues regarding your casino experience. Any question you have can be addressed to our support team via phone, Live Chat or email; but for your convenience, we've developed an extensive FAQ section as well.
© Aussie Play Casino, 2020. All Rights Reserved