Diamond Fiesta Slot Review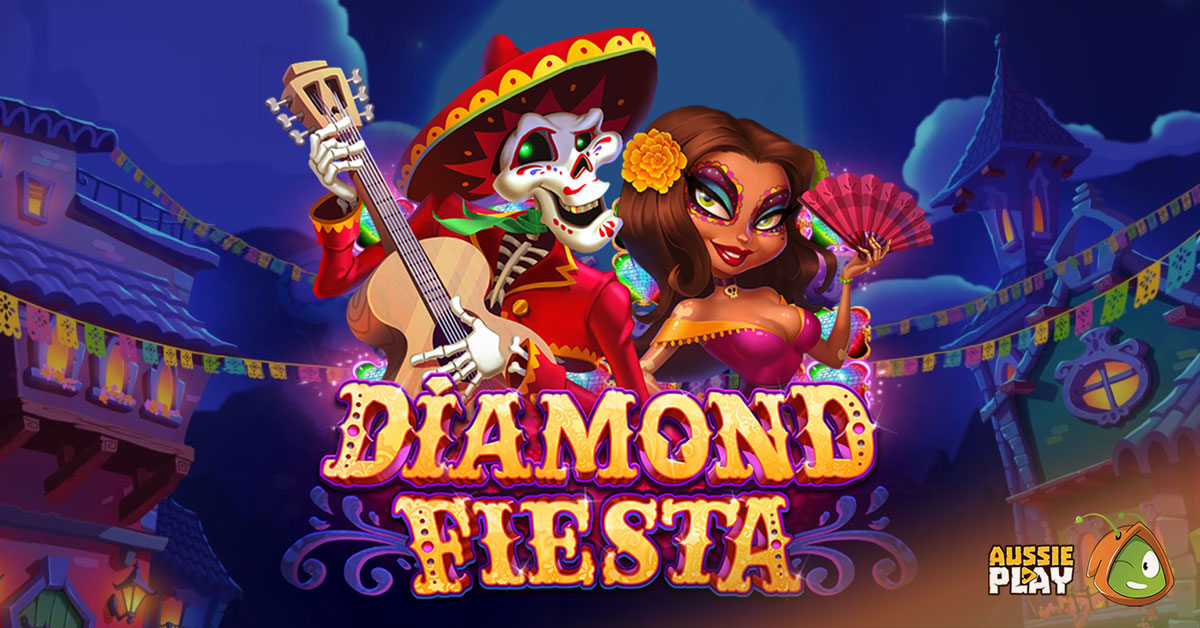 I was just stunned when I found myself standing in the middle of this roaring and flamboyant carnival! All people here were dressed as skeletons or as ghouls. Nevertheless, the holiday did seem to be extremely joyful, and even frantic – the dressed up performers were all playing guitars and horns, dancing all around, and drinking tequila! And of course, Space Cat already had a comment that he presented in his casual sarcastic, "smart alec" manner. He explained that we're in the middle of a traditional Mexican Day of the Dead celebration and that if I wasn't so forgetful, I would've already remembered the time I played that wonderful RTG slot, the one dedicated to The Day of the Dead. Well for me, this was like a lightning strike, and so I instantly recalled how I'd been playing the Diamond Fiesta slot just a week ago.
Then after facing this real-life carnival, I caught myself thinking that the game was extremely accurate in how it represented the basic concept. Judging by the scenery behind the reels, the action takes place somewhere in a small Mexican town. The playing field features numerous symbols that are very distinctive and memorable – a guitar-playing skeleton, a charming señorita with a fan, a pair of shakers, a hot-hot chili pepper, a bottle of tequila, a grinning skull, giant blue diamonds and, of course, some card suits as lower-paying symbols of the game. The game also stands out due to astonishing graphics, picturesque animation, and lots of adorable bonus features. And it probably goes without saying that it was impossible to stop playing Diamond Fiesta, because of all that groovy Mexican music; yeah, it sounds really awesome!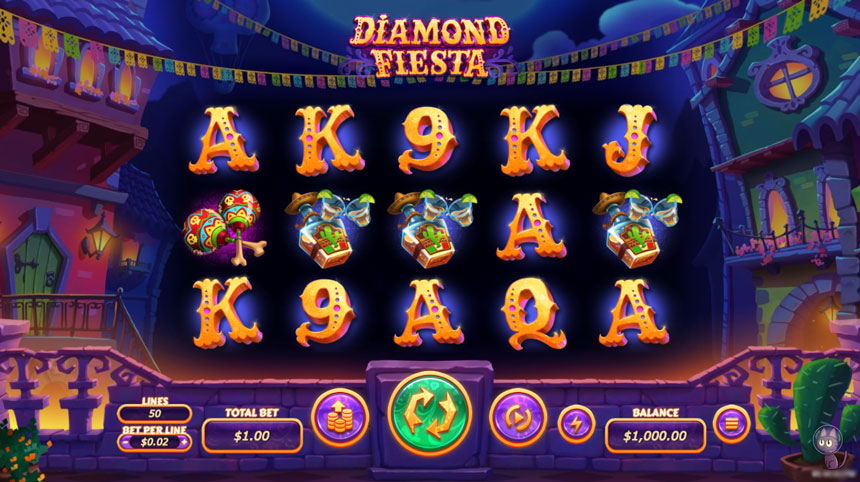 Diamond Fiesta Features and Mechanics
The new slot by Realtime Gaming features a casual 5X3 reels grid and 50 paylines. You cannot change the number of lines; however, you can still vary the size of the bet from $0.50 to $50 per single spin. The maximal payout in Diamond Fiesta is X50,000 of your stake size per line.
The winning combos are formed only from left to right, as usual. The skeleton, with his classical guitar and a sombrero hat, is a wild symbol in this game. This symbol lands on any reel, except for the first one. The grinning skull is a scatter symbol that has no reel limitations. You need to get at least three of those, in order to launch 6 free games. However, the most promising combo in Diamond Fiesta is the one featuring 6 disco ball look-alike blue diamonds. So if you're lucky enough to land at least 6 of those big blue gems, the bonus round will be launched. In this round, you're rewarded with three free spins, and all the other symbols except for the diamonds become inactive. Every time you manage to get another diamond, you're given another 3 free spins; then when you manage to fill all the reels with those enormous gems, the reels are going to expand! The luckiest players may stretch them up to the 8X4 grid. And as you can easily guess, this game featuring gems is the most beneficial round, where you can win a king's ransom in the form of mini, minor, major, and grand jackpots!
Subscribe to us
If you want to receive our newsletters and latest updates, enter your email address in the field above.
We employ a highly professional Customer Support team, and every its member is able to solve any issues regarding your casino experience. Any question you have can be addressed to our support team via phone, Live Chat or email; but for your convenience, we've developed an extensive FAQ section as well.
© Aussie Play Casino, 2020. All Rights Reserved